DieBuchSuche - alle lieferbaren Bücher einfach finden und Preise vieler Anbieter vergleichen.
Alle Bücher - jedes Angebot vergleichen
Ashley Bell (Dean R. Koontz ) - 9780007520367 - Buch kaufen
Aus dem Archiv:
ISBN:
9780007520367

(?) bzw. 0007520360

, in Englisch, Harper, Taschenbuch, gebraucht
Usually ships in 1-2 business days
Paperback, Label: Harper, Harper, Produktgruppe: Book, Studio: Harper
Schlüsselwörter: Arts & Photography, Biographies & Memoirs, Business & Money, Calendars, Children's Books, Christian Books & Bibles, Comics & Graphic Novels, Computers & Technology, Cookbooks, Food & Wine, Crafts, Hobbies & Home, Education & Teaching, Engineering & Transportation, Gay & Lesbian, Health, Fitness & Dieting, History, Humor & Entertainment, Law, Literature & Fiction, Medical Books, Mystery, Thriller & Suspense, Parenting & Relationships, Politics & Social Sciences, Reference, Religion & Spirituality, Romance, Science & Math, Science Fiction & Fantasy, Self-Help, Sports & Outdoors, Teen & Young Adult, Test Preparation, Travel
Daten vom 24.04.2016 10:31h
ISBN
(andere Schreibweisen): 0-00-752036-0, 978-0-00-752036-7
Aus dem Archiv: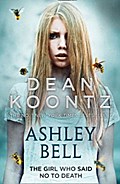 ISBN:
9780007520367

(?) bzw. 0007520360

, Sprache unbekannt, Harpercollins UK, Taschenbuch, neu
Versandkostenfrei
Ashley Bell: Bibi Blair is a fierce, funny, dauntless young woman - whose doctor says she has one year to live. She replies, Well see.Her sudden recovery is a medical miracle. An enigmatic woman convinces Bibi that she escaped death so that she can save someone else. Someone named Ashley Bell. But who is Ashley Bell And what exactly does she need saving from Bibis obsession with finding Ashley sends her on the run from threats both mystical and worldly, including a rich and charismatic cult leader with terrifying ambitions. Englisch, Taschenbuch
Daten vom 07.01.2017 23:28h
ISBN
(andere Schreibweisen): 0-00-752036-0, 978-0-00-752036-7
9780007520367
Finden Sie alle lieferbaren Bücher zur ISBN-Nummer 9780007520367 einfach und schnell und können die Preise vergleichen und sofort bestellen.
Lieferbare Raritäten, Sonderausgaben, Restposten und gebrauchte Bücher sowie antiquarische Bücher des Titels "Ashley Bell" von Dean R. Koontz werden vollständig erfasst.
michel houellebecq unterwerfung gebraucht lego gebraucht händler